Sales and Marketing Alignment for B2G
We hear all the time how sales and marketing don't speak the same language—often blaming each other for lack of sales revenue. Aligning sales and marketing teams is a stumbling block faced by many B2G companies. This problem may be as old as the government itself.
In most cases, the role of B2G marketing is to generate leads. The job of the sales department is to follow up with those leads and turn them into contracts. But thought leaders tell us that for B2G companies in today's environment, alignment of their sales and marketing teams is one of the largest opportunities to see year-on-year revenue growth and business performance improvement.
Unfortunately, the obvious need for this alignment does not change the fact that historically these two teams have had a complicated and often challenging relationship that won't magically change overnight. Both sides often have time-sensitive and aggressive goals, and they often find it easier to get things done without waiting for the other's involvement.
While there is no instant fix, here are 4 fundamental steps to improve sales and marketing alignment for B2G companies. The good news is that B2G companies can accelerate this process by partnering with a company that specializes in these techniques. This will bring critical skill sets to the organization while not adding to client aquisition costs.
1st Step—Buyer Personas
Sales and marketing need to work together. They are both talking to the same audience. It is not enough to know that you are selling to the DOD, DOL, or SSA. Both teams need to delve deep into the unique qualities that make up their company's ideal purchaser—an actual person—with enough detail that they can put a hypothetical face and name to the buyer. It is a fictional person who represents everything the actual buyer represents. His or her questions, doubts, needs, finances, resources, etc. This is the buyer persona.
Sales and marketing need to be involved and work together to develop and continually review these personas. According to HubSpot, one of the top marketing automation platforms, "While using personas to map content marketing strategies is useful, it provides only a small percentage of the value that it should. If both sides of the organization aren't fully committed to using personas to guide their day-to-day actions, the fracture between sales and marketing will multiply and sales momentum will stagnate, causing customer acquisition costs (CAC) to skyrocket."
B2G companies can benefit from using a professional marketing company to walk them through the process of creating and refining buyer personas and the creation of specific content marketing programs. Done correctly, these investigative steps help reach the purchasers earlier in the buying decision-making process.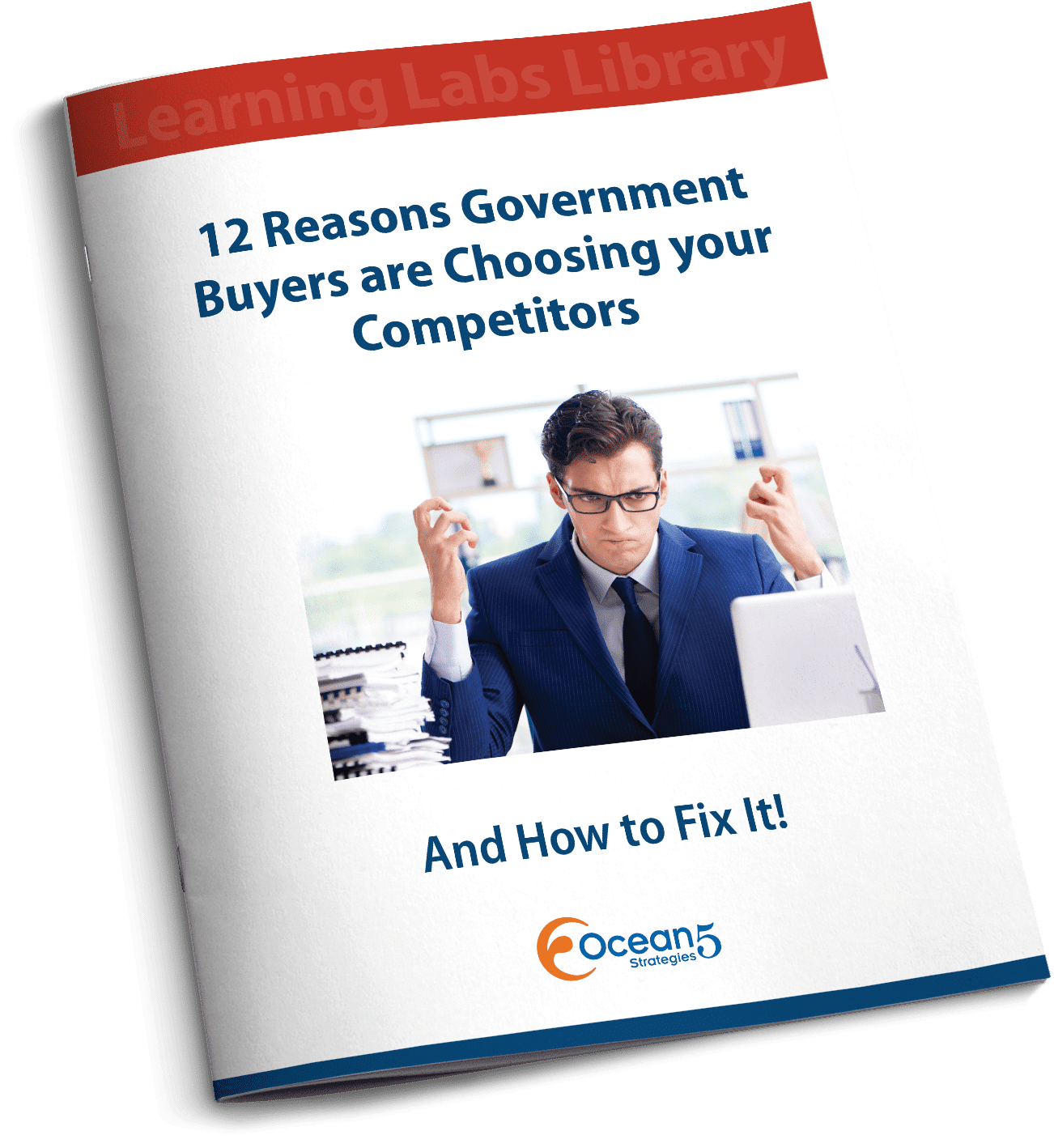 2nd Step—Create SLAs
A documented service level agreement (SLA) between sales and marketing is one way to improve the process. It is often said that what gets measured gets done, and what gets measured and monitored gets done faster. An SLA formalizes the measurement and monitoring processes by defining roles, responsibilities, process, targets, and accountability.
Once a B2G company's sales and marketing teams begin working together and consistently collaborating on SLAs, real progress can begin. In a 2017 HubSpot study, respondents whose organizations have a service level agreement (SLA) in place were 3x more likely to say their strategy is effective compared to those in misaligned organizations, and "companies with aligned sales and marketing generated 208% more revenue from marketing."
While working through all of the details and the thought required to create these SLAs can be difficult, once in place, the impact can be significant. William Howard Taft wrote, "Don't write so that you can be understood, write so that you can't be misunderstood." SLAs can make that possible.
3rd Step—Create a Content Creation Process
Your sales team receives frequent feedback from purchasers and your contract officers know what is getting them excited about your company and your services. Unfortunately, they often don't have time to record this feedback and relay it to marketing. One way to solve this problem is to put together a process to gather this input.
Brainstorm Sessions
Make sure to have a quick brainstorm session at sales and marketing alignment meetings to ask what content sales would like to have to share with prospects or to attract more leads. Take a good look at your sales and marketing collateral and create uniform messaging and language. Many times, B2G companies have created their materials over the course of time and their digital and print collateral does not present a unified approach.
Critical Communication Materials
Take a hard look at your content and marketing assets. If it does not all sound or look like it represents the same company, create a plan and budget to recreate these critical communication pieces. If the company does not have the internal resources to accomplish this quickly, they can hire an outsource marketing team that specializes in both content marketing methodologies as well as the design and development of marketing assets.
According to a 2015 Federal Content Marketing Review, an overwhelming amount of government buyers use content marketing in their buying process. Federal decision-makers consume thought leadership content (e.g. white papers, case studies, webinars, guides etc.) before making a buying decision. You must build your brand reputation and stay top of mind long before the RFP. Invest in your content marketing and inbound marketing strategies.
4th Step—End-to-End Full Funnel Reporting
B2G sales and marketing teams need processes for measuring results, reporting these results, and making constant adjustments as data is collected and analyzed. A system that allows end-to-end reporting can go a long way toward sales and marketing alignment success.
Sales and marketing often have a different opinion about the number of stages in the decision-making process. They may even have different terminology to describe those stages. These teams must share the same picture of the funnel and agree on common terminology. Next, implement systems and technology that allow full funnel reporting and a lead scoring model to help your teams see what is happening across the entire sales and marketing landscape at all times.
B2G companies can benefit from working with a company such as Measured Results, who specialize in configuring marketing automation and sales CRM systems to support a cohesive marketing and sales relationship. This can help with integrating systems, lead scoring models, lead assignment and notifications, reporting and tracking lead quality and sales performance.
Summary
B2G companies can effectively improve both marketing and sales while not adding to salaries and overhead. It requires taking an honest look at where marketing and sales fail to communicate, and then working to develop co-strategies that everyone can benefit from using.
Companies may find it easier and more efficient to partner with a company that specializes in lead generation and analysis. This will free up your valuable staff to concentrate on messaging and customer relationships. B2G sales, like all sales, depend on building meaningful relationships. Sometimes that needs to start at the company level.
Ocean 5 Strategies is a marketing agency that specializes in implementing sales and marketing strategies that deliver profitable sales growth. Using inbound strategies and marketing automation tools such as HubSpot, Oracle Eloqua, Pardot and Marketo, we help government contracting, manufacturing IT/tech and SaaS businesses perform.
Learn more about B2G marketing solutions from Ocean 5 Strategies. Click Here.
To make an appointment with one of our Sales and Marketing alignment specialists, just let us know by giving us a call at 703-988-9896, or, fill out our simple Contact Form.