SEO Marketing for Growth
Increase Your B2G or B2B Qualified Leads!
Our SEO Campaigns Get Your B2G or B2B
 

Website Found.
What is SEO?
Search Engine Optimization (SEO) is a structured process, driven by data analytics and analysis. When done well, SEO will increase the visibility of your website.
At Ocean 5 we optimize your website to dominate search engine results.
We identify the most common terms, used by real people, and restructure your website to make it easy for visitors to find the information they need.
Is SEO Right for Your Organization?
Talk to one of our experts today!
The Benefits of Search Engine Optimization (Why Choose SEO?)
Qualified Leads
SEO done well will attract the right people to your website, meaning those who are searching for your specific products and services. In turn, this increases the likelihood of closing deals and reduces the time and energy you have to devote to engaging with the people who will not ultimately buy.
More Sales
Getting found means more traffic to your website. More traffic, and higher levels of engagement with your target market, generates more qualified leads and increases sales.
Increased Brand Awareness
A higher position on search engine results pages means increased brand visibility. When your company appears on page one people take notice. SEO and (where appropriate) local SEO—done well—can get you listed multiple times on a single search engine page, making your brand stand out against the competition.
Higher Return on Investment (ROI)
Investing in SEO as part of your market strategy should have a positive ROI, meaning it should generate more gross margin in incremental business than the cost of a robust SEO program. ROI varies from business to business.
Contact us to learn more about the ROI implications for your company.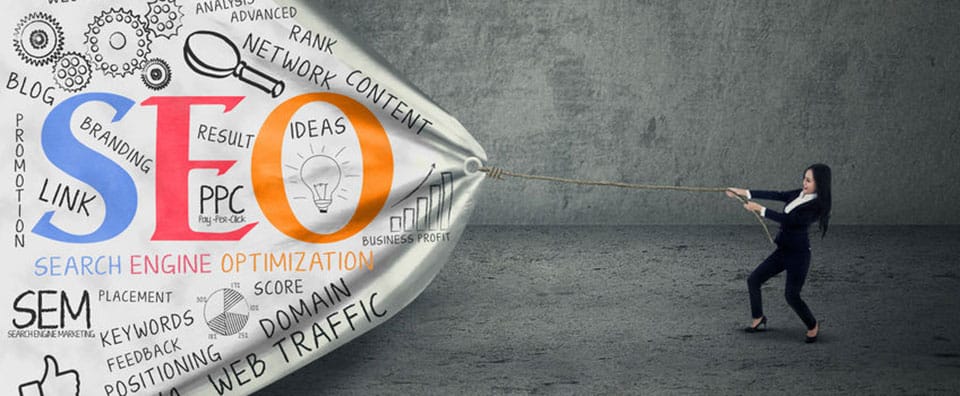 Why Choose Ocean 5 For Search Engine Optimization?
Expertise, transparency, honesty, and results.
Our SEO subject matter experts have the knowledge, tools, and experience to deliver results…because we really do know how Search Engine Optimization works!
SEO is one arrow in the marketing quiver and, while in isolation it has some value, integrated with other aspects of your marketing plan it can dramatically accelerate your lead generation and sales growth. As a growth agency, we look to your overall business development objectives and determine how, and if, SEO fits into your specific strategy.
Our core values are: add value, we do what we say we will do, and do the right thing. If SEO is the right tool for your business we will tell you—equally we will tell you if it is not.
Our SEO reporting provides understandable and transparent insights on the results derived from your investment—we make the complex seem simple!
Find Out Your SEO Health Score Now!
Learn how to get more visitors to your site with a FREE evaluation.
Included in Our Search Engine Optimization Marketing Programs

Technical SEO
Optimizing the website's images and code to improve speed
Improving the navigation to provide access to the most important content
Identifying and fixing errors such as broken links
Ensuring the site is structured in a way that is easy for search engines to crawl and index in search results
Key Word Research
Identify the most relevant and attainable keywords for your business
Used to create relevant content, on-page optimization, and website optimization
On-Page SEO
Page URL
Page title
Headings and subheadings (H tags)
Image alt text
Writing the main body of the text to be engaging and relevant
Links to other useful resources for the reader
Meta descriptions—a summary of the page content that helps people understand what they will find when they click to your page from Google's search results page
New Content
Ongoing creation of new original, relevant, and engaging articles
Written articles and supporting images optimized and added to your website
Backlinks
Ongoing generation of quality backlinks from websites with high domain authority
Local SEO
Set up and maintain Google My Business
Establish online listings and citations
Transparent Reporting
Easy-to-understand reports
Review and campaign adjustment based on data and analysis
What Our Clients Are Saying
"Breadth of Experience in B2B and B2G"
"We chose Ocean 5 because of their breadth of experience in B2B and B2G and unique approach to messaging and content marketing and their ability to create great content. We benefited from additional insights on multi-channel campaign planning, email marketing, search engine optimization, and leveraging marketing assets into paid advertising and social media."
"On Schedule and Instant Results"
The project was completed ahead of schedule and improved the website performance from an F to an A+ rating. I would highly recommend Ocean 5 to other government contractors in the technology space."
"Remarkable Results!"
"Our SEO results were remarkable after engaging Ocean 5. We are in position one for highly relevant key terms. The increase in qualified leads has driven the highest monthly revenue, year over year, on record."
"Lead Generation—It Just Works!"
"We engaged Ocean 5 in the hopes of systematically and programmatically generating leads for our business—and that is exactly what has happened! It just works."