Don't Just Redesign Your Website—Maximize Your Revenue Potential
Get a website that generates more visitors, more leads, more revenue, and a substantial leg up on your competition.
The traditional website design process is broken!
At Ocean 5, we use the Growth Driven Design methodology—a smarter approach to web design that reduces the frustration and risk of traditional web design.
Risks of Traditional Web Design
High upfront cost
Requires large one-time budget
High risk of out-of-scope needs emerging during development
High potential for schedule delays
Harder to drive measurable long-term results
Assumptions are based on historical experience
Longer delivery time with zero impact on sales during development—can drag on for months
Becomes neglected post-launch with few impactful improvement
Advantages of Growth Driven Design
Cost spread out over time
Consistent monthly investment—easier to budget
Process allows for flexibility as needs are uncovered—no scope creep
Schedules and scope are predictable
Measurable results drive revenue and growth
Decisions are made based on actual user data, not assumptions
Start capturing and converting leads sooner—often within 60 days
Continuous impactful improvements drive results
Growth-Driven Design drives optimal results by learning about your visitors through data and continually improving the performance of the site.
The Growth Driven Design (GDD) Impact
Quicker time to value
GDD websites require less upfront time, energy and resources from your company and launch in about half the time of a traditional website with substantially less upfront cost.
Drives better results from revenue
Traditional web design has a broken "set it and forget it" mentality. Growth driven design has a continuous "improvement over time" mentality—a better playbook for growth.
Creates happier clients
Clients are more satisfied with the GDD process compared with traditional web design. Who wouldn't be with more flexibility, a better timeline, reduced upfront costs, and data-driven refinements leading to quicker time to value?
How Does Growth Driven Design Work?
The Growth-Driven Design methodology has three major stages:
1. Strategy
The strategy phase is critical for success and driving growth. Strategy workshops help us gain an understanding of your company, clients, and what it will take to reach your goals.
We realize that clients don't hire an agency to create "stuff" they hire us for results and growth. A website needs to help your business grow, or it's not a successful website.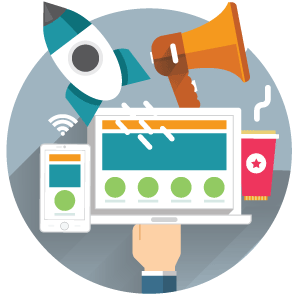 2. Launchpad
The goal of a launchpad website is to quickly build a website that looks and performs better than what you have today but isn't a final product. Your launch pad is the foundation we will build upon and optimize based on actual user data from real users interacting with the site.
Launching quickly also creates quicker time to value as compared to the typical six or more months of a traditional website design project.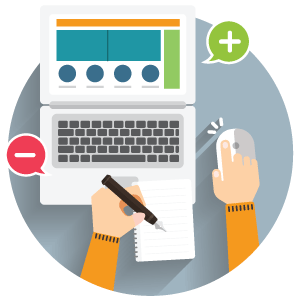 3. Continuous Improvement
By using a website performance roadmap and live data to determine the most impactful improvements and activities—the ones that drive results! Every business and website is different.
This is why we let the performance metrics and actual user data to guide our improvement focus.
"I was impressed with Ocean 5's ability to make the complex seem simple."
Our company provides technology and IT solutions (SaaS) to both the federal government and the private sector. Ocean 5 stood out due to their expertise in both."
Unlike traditional "set it and forget it" website design, Growth Driven Design has a continuous "improvement over time" mentality—a better playbook for growth.
Request a FREE Website Evaluation
Would you like recommendations that could directly impact your business?

Your website assessment report will include a review of:
Visitor Conversion Potential
Speed
Initial Impact
Navigation / Visitor Journey
Targeted Content
Mobile-friendliness
Sitemap