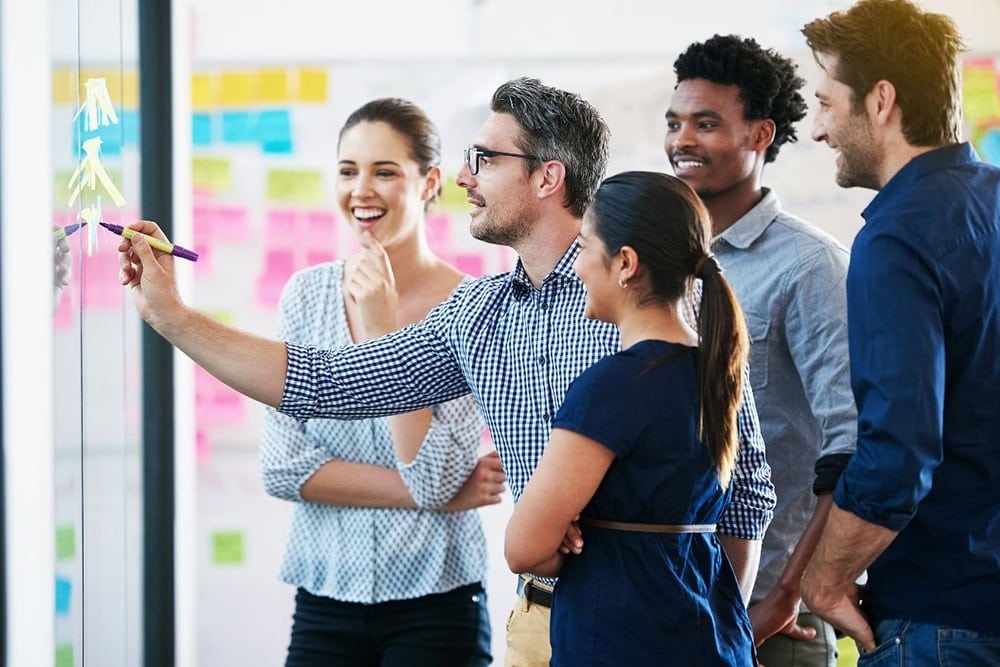 Whether to hire an in-house marketing team or leverage an agency is a common question for companies as they scale. Is a combination the right answer?
This article will compare the pros and cons of each approach—leaving you to make the right decision for your company. The areas for consideration are (click links to jump to section of interest):
Total cost of an employee
Payroll tax
Insurance
Hidden costs of hiring an employee
In-house marketing departments
Agency team structure
In-house vs. agency comparison table
Costs for in-house marketing
Agency fees
Primary reasons for outsourced marketing
Primary reasons for in-house marketing
In-house vs. agency comparison table
Common solutions based on company size and growth goals
Benefits of hiring an agency
Benefits of in-house employees
Recommended in-house tasks
Recommended outsourced tasks
Financial Considerations Regarding Employees
Total Cost of an Employee
Companies often compare employee salaries to the cost of hiring an outside agency, however, the total cost of an employee is 1.25 – 1.4 times higher than the salary you agree to pay according to the Small Business Administration (SBA).
The incremental costs, over and above salary, include:
Payroll tax
Insurance
Employee benefits
Training and equipment
Management
When hiring an external agency, the fees should be transparent with no hidden costs. Adding the following costs to the employee salary numbers is necessary to make a true comparison.
Payroll Tax
Hiring an employee means considerable payroll tax costs, including:
Employer share of FICA (7.65% on compensation up to the annual wage base, which is $147,000 for 2022, plus 1.45% on compensation over the annual wage base).
Federal unemployment tax (FUTA) of $42 per employee. The FUTA tax rate is 6%, but most employers can take a FUTA credit of 5.4%, resulting in a mere 0.6%.
State unemployment tax varies with your state and your claims experience (the more claims made by former employees for unemployment benefits, the higher your state unemployment tax rate will be).
You can learn more about these costs from the IRS and your state revenue department.
Insurance
You also need to address insurance coverage for your employees, including:
Workers' compensation. Costs vary from state to state.
Other insurance may be needed for the work performed.
Employee Benefits
Under federal law, large employers (those with 50 or more full-time and full-time equivalent employees) must offer health insurance or pay a penalty. Smaller companies may also offer benefits to compete for top-tier employees.
Offering retirement savings plans, such as 401(k) plans, to employees isn't mandatory under federal law, but employers may choose to do so. The cost of employer contributions needs to be factored into the total wage package.
Federal law requires employers with at least 50 employees to offer unpaid family and medical leave. But several states have paid leave laws. Some put the cost on employees (through wage withholding), while others require employers to share in the cost. And the District of Columbia puts the entire burden on employers.
These are only some of the employee benefits you can offer. Depending on the nature of your business and location, you may pay premium rates to attract top talent.
Hidden Costs of Hiring Employees
Training and Equipment
In addition to fringe benefits, there are a slew of other employment-related costs that may be difficult to quantify. For example:
The cost of recruitment, including background checks and drug testing where applicable.
Lost time—30 to 60 days to hire plus onboarding and training for each position.
The cost of initial and ongoing training.
The cost of providing equipment: Computers, software (for design, web management, reporting, SEO, etc.), phones, office space, desks, chairs, etc.
Management Costs
Not to be overlooked is the cost of ongoing management. Employees (especially new employees) will need supervision and guidance to be effective in their roles which may require hiring additional management overhead. The ongoing management cost includes periodic reviews and career development to keep employees engaged and happy.
Marketing Department Structures
In-House Marketing Departments
Marketing requires a team of people with a diverse skill set. An in-house marketing department would typically include:
Marketing Director
Content Manager
Graphic Designer
Web Developer
Digital Marketing Manager
For companies using marketing automation, additional skills in technology (beyond marketing) would be necessary.
Each of these roles has a defined set of skills. It is tempting to try and combine these roles to reduce costs, but this can lead to sub-optimal results.
Agency Marketing Team Structure
Agencies have a similar structure, with a couple of twists.
Agencies will have a project manager or marketing strategist to proactively manage the relationship between their internal team and you, the client.
The agency's people typically work with multiple clients, which helps their team continually expand their expertise in their specific skill-set.
Since marketing is the agency's core competency, they typically have highly skilled, experienced people in specific roles. A marketing agency may have an SEO team including a web development specialist to optimize the website, an SEO content specialist, and a backlinking specialist. In contrast, a B2G or B2B company may have an in-house SEO specialist tasked with other non-related activities or a marketing generalist wearing many hats.
In-House vs. Agency Comparison Table
For smaller companies, the cost of hiring all the necessary skills in-house is prohibitive. For larger companies, other considerations come into play.
Consideration

Understand your company and industry
In-House

Actual costs are up to 1.4 times the salary.

Employees are a fixed overhead. You pay them whether they are busy or not.

Employees will require supervision and possibly additional headcount to manage the team.

You are responsibility to train and develop employees.

Hire generalists in an attempt to minimize headcount and costs.

Probably not marketing— unless you are a huge company with the revenues to support an entire marketing team.

New employees require ramp-up.
Agency

No additional cost beyond agreed fees.

Management is handled via a project manager, account manager, or marketing strategist.

Already have trained marketing specialist.

Have subject matter experts in multiple disciplines.

Continually improving marketing skills with ongoing education in their core competency and from working with multiple clients.

Hire an agency with experience in your industry—some ramp-up is inevitable.
Costs for In-House Marketing
Depending on location and the skill level of the people you hire, the total cost for an in-house marketing team with the core set of skills is up to $875,000 per year ($72K per month)—all of which is a fixed overhead to the business.
Here's how that figure breaks down.
Position

Digital Marketing Manager

Agency Fees
Depending on the agency, typical monthly fees can range from $7,500 to $35,000 per month plus advertising investment. This represents an annual investment of $90,000 to $420,000 – less than half the expense of a fully burdened in-house solution.
These numbers are for illustrative purposes only, and you should run the numbers for your specific situation—however, the differential in this typical model is significant.
Conclusions
The decision to work with an agency depends on the size of your company and overall growth goals. A combination of both may be the answer.
The primary reasons for outsourced marketing are:
Access to specialist skills (strategy, digital marketing, campaign management)
Creative input on both graphic design and campaign ideation
Lower overall costs, for fractional use of an established team with specialized marketing skills
The primary reasons for in-house marketing:
You are large enough to hire the necessary skills in house and have considered all the additional overhead costs beyond salary.
Those employees will have sufficient work to justify a full-time role.
You have the management skills in-house to supervise, guide, mentor, and develop these individuals to keep them with the company (employee attrition is time-consuming and expensive!).
Common Solutions, Based on Company Size and Growth Goals
Typical Structure

In-house marketing team supplemented by agencies for specific skills, such as advertising, website design and development, SEO, and marketing automation.

May rely on in-house marketing to manage the status quo.

Hire a growth-driven agency with experience in your market sector. Pair with in-house CMO and subject matter experts.

May rely on in-house marketing to manage the status quo.

A well-funded start-up may elect to work with a growth-driven agency for all marketing tasks.

The investment required to hire an agency may seem too high. Remain in Do-It-Yourself mode.
Key Points Summary
Benefits of Using an Agency
Lower overall cost—a fully burdened in-house team can be two times the cost of an outsourced solution.
An agency provides access to a multi-disciplined team of marketing subject matter experts with the ability to pivot as business needs change.
Employees are a fixed cost to the organization, with a guaranteed negative impact on cash flow.
Onboarding employees or an agency takes time. Changing from one solution to another will cause a lag time in output and efficiencies.
Experience with other clients builds knowledge and expertise that supplements in-house expertise.
Agency builds product knowledge over time.
Benefits of In-house Employees
 Accessibility—they are at your disposal throughout the working day (other than vacation and sick days).
Employee builds product knowledge over time.
Recommended In-House Tasks
Local daily interactions with other employees are beneficial.
Email list building, acquisition, and data cleansing.
Social media engagement—employees can respond in real-time with the appropriate voice of the company.
Events, tradeshows, and conferences.
Recommended Outsourced Tasks
For tasks that required in-depth expertise and benefit from a team approach.
Website design and development
Search Engine Optimization (SEO)
Digital Advertising
Graphic Design
PR
Leverage outside perspective and processes to develop marketing strategies.
Content strategy
Campaign planning
Messaging strategy
Branding strategy
Situation-Dependent Tasks
Consider the cost and breadth of skills required to form a marketing team.
Email marketing
Marketing automation
Content writing
 Sales support
Product brochures
How to Choose a Website Design Company
Important criteria to weigh when selecting the best website design company for your goals.
Download our free guide.
Ocean 5 Builds Outstanding Websites for Business
Ocean 5 creates websites that are fully customized to meet your business objectives. Our technically advanced, responsive (mobile-friendly), professionally designed, and provide an outstanding user experience. We use Growth-Driven Design to build a digital platform for accelerated lead generation and long-term success.