Why Government Contractors Should Care About Website Design and SEO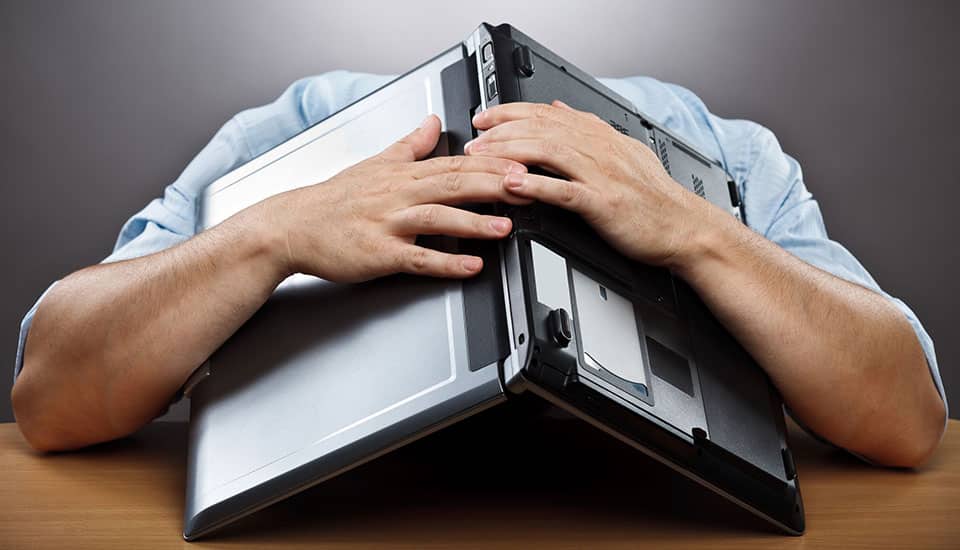 You may have not heard about it. You may have forgotten about it. You might be hiding from it. But Core Web Vitals are here—and can affect how government contractors generate business.
82% of Federal decision-makers rated corporate websites and search engine results as their top-rated sources for research.
According to studies by federal market research experts, Market Connections.
Big Changes That Have Increased the Importance of Website Design
You cannot run. You cannot hide. The latest big Google algorithm change rolled out in May 2021. This update is a big deal—a very big deal! It is called Core Web Vitals.
Google gave us plenty of warning. In May 2020, Google first announced its upcoming changes—which has increased the importance of website design and its influence on search engine optimization (SEO). In November 2020 they specified that due to COVID-19, they planned to hold off on the roll-out until May 2021. And because of this, many companies chose to hold off implementing critical changes.
The Google May 28, 2020 statement noted: A note on timing: We recognize many site owners are rightfully placing their focus on responding to the effects of COVID-19. The ranking changes described in this post will not happen before next year, and we will provide at least six months notice before they're rolled out.
We're providing the tools now to get you started (and because site owners have consistently requested to know about ranking changes as early as possible), but there is no immediate need to take action.
Before we dig into Core Web Vitals, the first question we want to answer is…
Why SEO and Web Design Matter to Government Contractors
The hurdles and barriers government contractors need to overcome have not only changed but have also become greater. The customer base for government contractors is becoming harder and harder to reach, and contractors have to do more than ever to breakthrough. New marketing techniques and technologies must be considered to stay competitive.
A Common Government Contractor Misconception About Website Design and SEO
There is a common misconception among government contractors that their corporate websites and search engine ranking are not important to the growth and success of the business. But, listening to stories told by government decision-makers, our professional experience, and research from GovCon experts and SMEs in the federal space, has proven to us that this is very outdated thinking.
Year over year, studies have proven that websites and SEO continue to be the #1 most important resource in various stages of the government buyer decision-making process.
According to studies by federal market research experts, Market Connections.
Government decision-makers are now relying more and more on contractor websites to provide them the information they need to research their challenges, determine the best methods for solving them, and choose the right company for the contract award. User experience considerations such as site speed, user-friendly navigation, and clean, professional design are key to lowered bounce rate and meeting marketing goals.
We have been propelled out of the stagnation of "that's the way we've always done it" and are faced with challenges that are opening doors for new opportunities.
If your company is not investing time and resources into your corporate website design and development and SEO, you are probably losing government decision-makers to your competitors who are!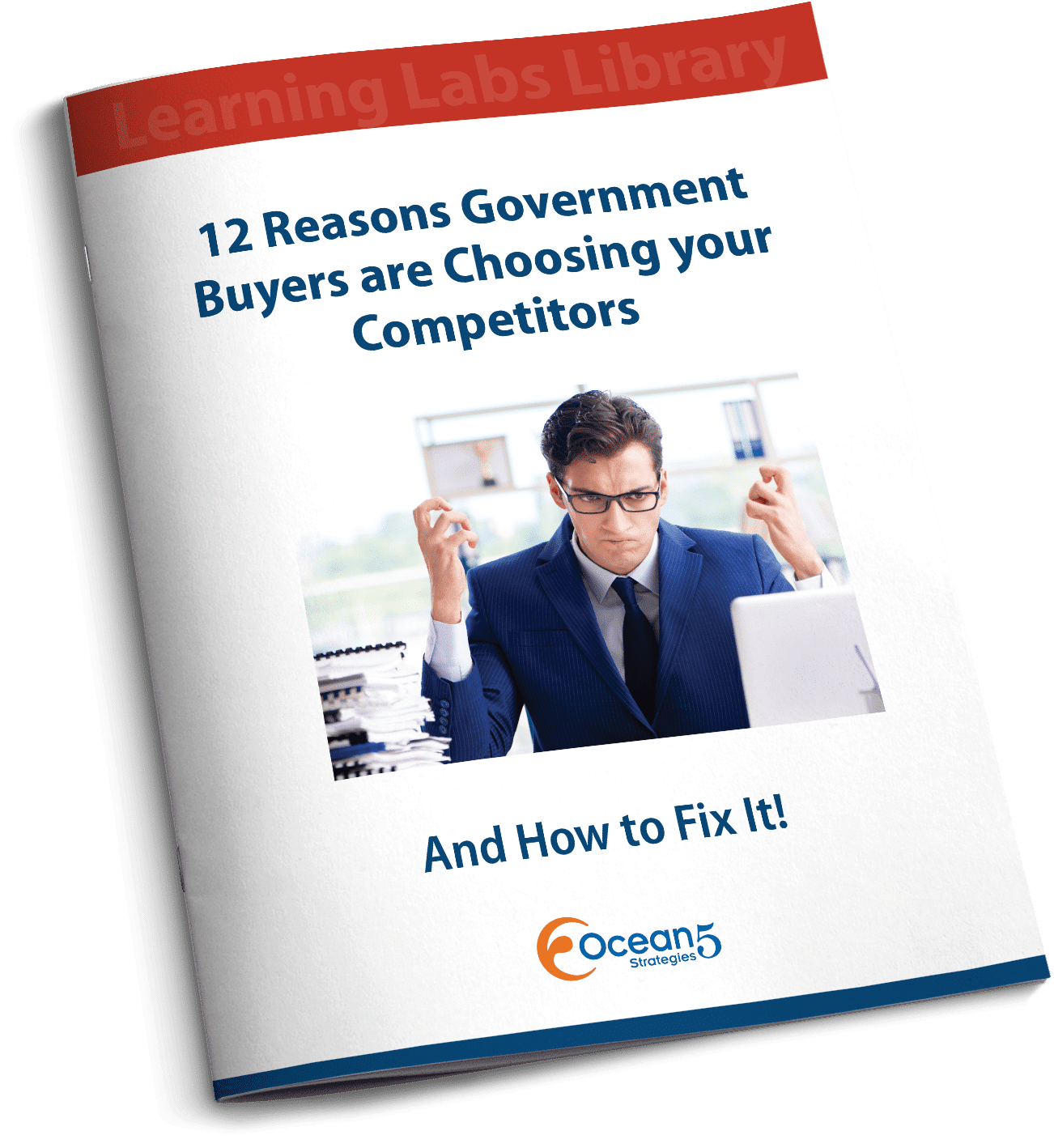 Getting Website Design and Development Right
Your website can be your #1 top marketing asset—the central hub of any digital marketing program and an investment in your core brand. But the extent of integration and how it works is often not fully appreciated.
Business Development Support
Your website can also be your business development best friend—working 24 hours a day, seven days a week, to nurture, educate and guide your prospects through the buyer's journey and towards a closed deal. This makes your human BD team much more efficient by allowing them to spend less time selling and more time closing.
Also, integrating the website with more traditional marketing programs, such as trade shows and advertising, is sometimes overlooked entirely.
Improve Recruitment and Retention
Let's not forget about employee recruitment and retention. This is especially important for government contractors and technology companies who need to scale up rapidly when they land a contract.
Attract Teaming and Vendor Partners
Is your Government Contracting company going after prime contracts or subcontracting opportunities? Are you a product provider or re-seller? If so, your marketing strategy should also be concerned with attracting teaming partners and suppliers/vendors.
Done right, your website design and development, and SEO can help with all of these challenges and help drive revenue and the growth of your business.
To provide a quick, easy reference, we have created a couple of handy downloadable resources: Website Checklist for Government Contractors and a quick guide, The Biggest Reason Federal Buyers Can't Find You …And How To Fix It!
Now, having a better understanding of what is at stake with the latest Google algorithm change, I introduce you to Core Web Vitals.
The Least You Need To Know About Google's Core Web Vitals
Government decision-makers are using search engines to find what they are looking for.
These potential buyers want to find information quickly and have a great page experience when they visit a website.
Last year, May 2020, Google announced new metrics—in addition to over 200 existing ranking factors—that measure page experience.
A year passed and the new Core Web Vitals metrics rolled out in May 2021.
How well your website measures up will either positively—or negatively—affect your ranking moving forward.
If you have not already addressed these changes, now is the time. Your competitors may already be ahead of you.
A Deeper Dive to Understanding Core Web Vitals (CWV)
According to Google, the metrics that make up Core Web Vitals will evolve over time. The original set focuses on three measures for Google search.
Load Time—the amount of time it takes for a webpage to load enough information to be useful to the visitor.
Interactivity—the amount of time before a visitor can interact with that webpage.
Visual Stability—Does the website content shift around as the page loads? How annoying is it to accidentally tap on a button that shifted under your finger as the page elements loaded?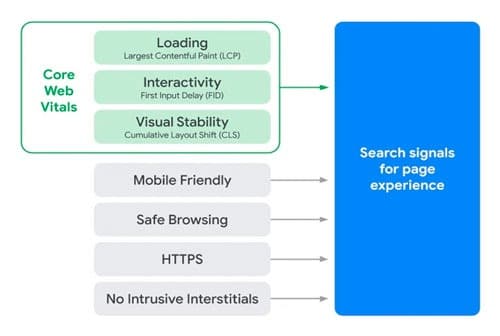 Other Significant Previous Changes From Google include:
Mobile-friendly website design—(also known as responsive web design) a requirement that displays websites rendering well on mobile devices higher in search results.
Mobile-first—an addition to mobile-friendly. Google announced that it will rank websites based on the mobile version over the desktop version—further reinforcing the importance of mobile-friendliness.
SSL or HTTPS—ensures that user data entered into a website is secure. Websites with an SSL certificate can be identified by the small padlock icon in the web browser address bar. This conveys a sense of trust and reduced risk.
Core Web Vitals is the next step in a series of changes that have impacted website design and search engine optimization.
If you want to dig in even deeper, we have written a blog dedicated to explaining Google Core Web Vitals. Read Article
Proof Mobile Matters to Government Decision Makers
Decision-makers in the federal government use mobile devices to access information. According to Market Connections' 2019 Federal Media & Marketing Study, over 75% of federal workers use their mobile devices in the workplace on a regular basis. Note that this is pre-covid. Imagine how much mobile use has increased over the last year.
Core Web Vitals is Here, What Can I Do, I'm Behind?
First, take a deep breath. Next, create a plan.
Website Evaluation and Implementation
If you have website design and development, and SEO expertise resources in-house to evaluate your website and implement the necessary changes, make sure that they have already addressed the Core Web Vitals update—or have a plan to do so, and quickly!
If you do not have in-house resources reach out to a knowledgeable outsource team that not only specializes in SEO and website design and development but also the nuances of marketing for government contractors. We are currently building a Core Web Vitals review into our activities for our Ocean 5 government contracting clients.
Find Out How Your Website Measures Up
Don't Neglect the Importance of Great Content
Your content helps you build relationships and earn trust.
Gone are the days that past performance and accuracy of language in a bid were the keys to winning the contract award. Today, B2G companies must compete to attract customers to their brand by providing compelling, quality, educational materials, thought leadership, and high visibility of capabilities that can be found online. This is generically referred to as "content."
Federal Decision-Makers Consume Online Content!
According to studies by Market Connections.
• 44% download content from vendors they work with
• Over 1/3 are willing to spend 1 hour+ reading work-related ebooks
• 25% will incorporate online content into RFPs/RFI
•73% will download and share online content with colleagues and supervisors
It's not enough to improve your website to create an SEO-friendly site.
A Big Hint From Google
"While all of the components of page experience are important, we will prioritize pages with the best information overall, even if some aspects of page experience are subpar. A good page experience doesn't override having great, relevant content."
Is Your Messaging On-Point?
Messaging is your ability to explain that your company has the ideal solution to your client's problems. Successful messaging addresses the concerns, challenges, pain points, and needs of their buyer.
Website messaging also needs to build trust and address the various stages of the buyer's journey, beginning with identifying their problem and moving through choosing a solution, and ultimately choosing the best contractor for the contract award.
Here is a great quote from our friend and government contractor business growth expert, Judy Bradt of Summit Insight.
"There is no such thing as doing business with the federal government. You do business with people, with needs, fears, and priorities not found in a database."
If you would like us to take a look at your website messaging, we would be happy to schedule a free messaging evaluation.
Summary
Your website is one of your company's most important marketing and business development assets. It can generate brand awareness and trust, provide a platform for thought leadership, convey information about your services and differentiators, allow your visitors to take their time, and self-educate. This all leads to highly qualified prospects so your business development teams can spend more time on closing instead of selling.
GovCon companies rely on government decision-makers choosing their solutions over their competitors. Government decision-makers rely on search engines and your website to research, gather information, and make decisions—often shaping the opportunities.
Future employees, potential teaming partners, and vendors/suppliers are also using search engines and corporate websites to gather information and make decisions.
In May of 2021, Google will be rolling out Core Web Vitals, which will place even more importance on the design of your website design than ever before.
If your GovCon company has not already created a strategy to address these challenges, you should do do now!
Need Help? If you have any questions about Core Web Vitals, website design, or SEO we invite you to reach out.