The best website design companies also understand that effective messaging is a key part of connecting government contractors directly with their government decision-makers.
Great messaging inspires visitors to remember you, engage with you, rely on you, and ultimately choose your company for a contract.
Your marketing messaging can support your business development efforts, and convert interested website visitors into sales leads. Messaging is the foundation for building trust that, over time, nurtures loyal relationships.
Marketing Messaging is not the same as Content
Messaging is a fundamental part of your website design, and actually factors into all of the marketing communications in your digital marketing program or your web design agency's work.
It is more than just an announcement of who you are and what you do, your marketing messaging needs to connect (or bridge) the solutions you offer with your federal buyer's need—at the right time and in the right way.
The message creates the opportunity to connect, sharing key info at a glance:
What is your government buyer's main pain point? Hint, you need to know.
What solution do you have to address the problem and resolve their pain?
What makes your solution different and better than your competition?
The answers to these questions, paired with some valuable content to support your message, and a call to action (a download, a phone number, a contact form, etc.), help to initiate a strong relationship. Once sparked, your digital marketing program can then continue to support conversions, ongoing business development efforts, and company growth.
However, messaging is different from content. "Content" presents the details of your offerings in various formats: a white paper or blog post, a product page, etc. The messaging will be present in all of this content – framing and shaping the communication so it speaks powerfully and directly to the person or people who need your solutions the most.
Messaging can (and should) be conveyed through various content pieces and via different media. With clarity, you can deliver relevant and powerful messages for all of your targeted personas, with different personalities, at varying stages of the journey.
Targeting Your Messaging Appropriately
How you say your message is as important as what you say. Depending on who your audience is, both (what and how) can end up changing.
When a message is on-point for the right person, you'll attract your ideal buyer and, over time, build a lasting relationship. But if your marketing messages are off-target, the result will be lost time and money. Which do you prefer?
As you build your messaging, there are five levels of targeting to consider:
The specific market segment within your industry.
Key personas within a segment; some government buyer personas include:

Contracting Officers
Program Managers
Project Managers

Personality types and preferences such as:

The Researcher—wants all the information they can get before they can move forward or make a decision.
Action-Jackson—a fast-moving decision-maker who wants just the top or bottom line info – they love bullet points.
The CareBear—a nurturing, relationship-oriented team member who wants to understand the impact of the data or information on the stakeholders and often responds to emotionally evocative messages.
The Planner—usually a leader who wants context and a big picture with a clear pathway of how to get a job done.

How much relative power a person holds within a role—is this individual an influencer or a decision-maker? They each have different needs in order to complete their assigned tasks and get their problem solved.
And finally, where this person is in the purchasing process—early (research), middle (gathering options), or ready (with a scope of work or RFP defined).
How do you determine who your best target audience is? Some of the answers are based in educated predictions and some can be determined through interviews with customers, your industry network, market research, and by talking with your internal teams. A growth-driven web development agency can also help you hone in on your most powerful messaging.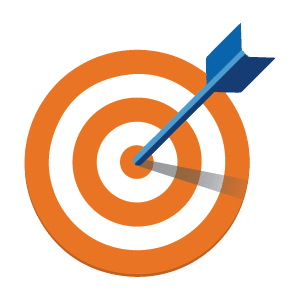 Find out how well your website is working for you now, as well as ways to improve it in order to attract buyers and grow your business. Start with our
free Website Checklist.
Messaging At the Right Stage of the Buyer's Journey
Messaging changes throughout the purchasing process, because different questions arise as a buyer progresses from researching possible solutions (and may not have a clear idea about the available solutions at this point) to very specific questions related to features, benefits, capabilities, competitive comparisons, and return on investment as they make their final decision.
Provide answers through your consistent messaging within each stage of the process:
Early-stage (research):
We understand your pain and have solutions for you with a CTA or call to action "learn more", backed up with:
lists of features/benefits that solve the problem,
product pages,
case studies,
downloadable content – informative guides, infographics, etc
subscription to an email newsletter,
blog posts,
contact us form.
Middle-stage (seeking specific solutions):
We know exactly how to solve your problem with a CTA to "review our experience and extensive knowledge–and hear what customers say" backed up with:
value-add downloadable content–guides, infographics, etc.
past performance,
testimonials,
visual pathway to solving the problem.
Final (decision making):
We fit your contract requirements, we are better than the competition (here's why)
capabilities statement including codes buyer must have,
proven differentiators—with backup as compared to the competition,
availability and contact details—via a call or schedule link.
Effective Messaging Do's and Don'ts
DO: Clarify your objectives, strengths, and differentiators.
To create powerful marketing messaging on your government contractor website, you first need to be clear about your own business objectives. What are the top strengths and key differentiators of your solution or offering? Present these high-priority ideas in structures and language your buyer can appreciate within your website design. 
DO: Use your buyer's own language.
Share this info in a way that draws your prospective client in to learn more and ultimately connect with you. You want to use the same words and images that your client would use to describe your products and services, rather than technical jargon or internal shorthand. 
To do this you must understand your prospect—who they are and what they need. Demonstrate you understand their pain and show you can solve their problem and resolve their pain. 
DO: Know your government buyer. 
If you're speaking to various audiences, it's acceptable to include variations that will appeal to multiple key audiences—such as a technical term (a decision-maker needs to see) with a brief description (to help a supporter orient themselves to your company as the best solution provider). 
Do: Use visuals. 
Messaging can also include visual elements like images or infographics to improve and simplify the understanding of your solutions. Visuals can quickly connect website visitors to the more emotional experience of getting their problems handled and their pain resolved. Show them your way quickly and concisely and provide assurance that your solution will meet their needs. 
DON'T: Use Jargon or try to "teach" your prospect what you know. 
Messaging must make things easy for the reader to understand. It's better to meet your clients on their own terms rather than take on an education campaign to "make" them understand your industry and technologies the way you do. Build a messaging bridge toward your client.
DON'T: Try to serve everyone. 
It's essential for you to have clarity of who presents you as an option and who makes decisions to contract you. Do the homework to understand who your key personas are, and design your marketing messaging for those important few.
Ready to Upgrade?
If you're not sure where to begin, get your Free Website Evaluation to learn how your site is serving you now and how you could utilize this powerful tool to grow your business even more.
About Ocean 5 Strategies
Ocean 5 Strategies is a leading growth agency in the greater Washington D.C. area specializing in government contractor websites and content marketing. We understand the specific needs of both government contractors and federal buyers. Get in touch for a Free Website Evaluation to understand how the marketing messaging on your govcon website can support you to win bids and grow your business..
Click the Links Below for More Information
FREE Website Evaluation
Learn More About Growth Driven Design