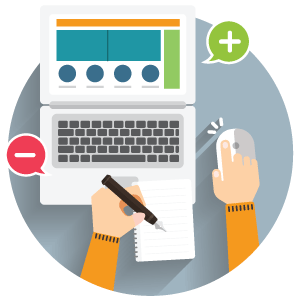 Are You Losing Business Because Your Website Fails Google's Tests?
Google is placing more importance than ever upon high-quality, authoritative, expert, trustworthy content.
Take this quick 5-question quiz to see how your website measures up.
1. Have you invested in branding?
☐ Do you have an "About Us" page that provides valuable inputs to Google in the form of a schema markup?
☐ Does your site showcase positive testimonials and customer reviews?
☐ Are your contact information and customer support details prominently displayed at the top of the page?
2. Do you have high-quality content?
☐ Does your site offer a high level of Expertise, Authoritativeness, and Trustworthiness (E-A-T)?
☐ Does your website offer educational content to nurture your visitors?
☐ Does each page have a clear and distinct purpose written in a way that Google will understand?
☐ Do you update and improve your site on a regular basis?
3. Is your site secure?
☐ Have you secured your site with HTTPS?
☐ Do you have ongoing security and maintenance to stay on top of the latest updates to any applicable CMS platform, theme, and plugins?
4. Does your website help build relationships?
☐ Do you have compelling lead magnets?
☐ Do you have gated content with forms that capture visitor information?
☐ Do visitors know what you want them to do next?
5. Are you mobile?
See what Google thinks now: https://search.google.com/test/mobile-friendly
☐ Does your website adapt its layout to respond to mobile devices?
☐ Does it meet the latest Google requirements?
☐ Did you know that if your site is not mobile-friendly, it may disappear from search engine rankings on both desktop and mobile? Learn More
How did you do?
If you answered "no" to any of these questions, you may be chasing potential visitors (and revenue) away!
Would you like our BONUS 7-point website evaluation?